The Food Of The Future
The Louis Pasteur Institute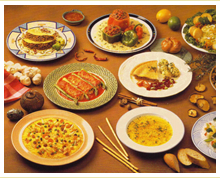 An industry leader in Textured Vegetable Protein (TVP) products, VitaPro Recognizes the geometric population growth, the fact that there is less livestock grazing land, the declining fish stocks and wide spread concern over saturated fats. These are but a few among the critical problems facing nutrition experts today.
VitaPro was not just born from the desire to replace meat protein with a much healthier vegetable protein, VitaPro is the culmination of years of research into a product that would be stable in all environments, as well as easily prepared and distributed in relief situations. VitaPro is one of the main products used in disaster relief situations around the world.
VitaPro has pioneered breakthrough soya protein food products that fill the need for an appetizing substitute for meat protein at a fraction of the cost.
VitaPro has created the first TVP product that does not sacrifice flavour and texture for nutritional value.